Presentation
International Golf Course NICKLAUS Design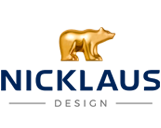 NICKLAUS Design, the world-renowned golf course design firm founded by legendary golfer Jack Nicklaus, has been entrusted with the delivery of an 18-hole course that will enhance the natural beauty of the Domaine LAVAGNAC site.
The Lavagnac golf course will take on an exclusive and singular dimension through its course that will wind in and out of the vineyards and the chateau. You will be able to enjoy the breath-taking panoramic views of the Pyrenees and the Cévènnes ! The layout of the golf course and therewithin its 18 holes will favour a natural and optimal integration with the terrain and the richness of the existing vegetation. NICKLAUS Design has designed and laid out this international course so that players of all levels can enjoy the golfing experience in this typical southern French setting while creating a world-class golf course.
Visual inspiration from the latest creations of NICKLAUS Design
FUN & ENVIRONMENTAL RESPONSIBILITY
Responsible International Golf

To promote a natural and environment-friendly place while enhancing and preserving the heritage, the Golf of Lavagnac is accompanied by the environmental and responsible approach ECCORA®.
Hosting
Golf Hamlets

Through the Golf Hamlets, you will discover an art of living that combines relaxation and well-being, moments of sharing and passion around golf. Located in the heart of the Domaine LAVAGNAC, the golf hamlets will meet your every desire.
With an architectural touch and a contemporary design, the atmosphere of each hamlet will offer you a moment of tranquility while enjoying a sumptuous view of the international golf course of LAVAGNAC designed by NICKLAUS Design.
Clubhouse
Discover "The Clubhouse"
In the heart of the Domain of Lavagnac,
The "Clubhouse", an unusual place in the Golfers' Hamlets, will carry you away with its very special identity. The "Clubhouse" has been conceived as a place where golf enthusiasts and novices alike can stroll from the proshop to the lounge located in the golf center to discover a wide range of services as well as the Domaine LAVAGNAC golfers' brasserie.